Generate new enquiries for your products and services, and add credibility to small and medium-sized businesses, with a carefully constructed information rich brochure website to match your brand.
Can be found in search engines like Google
Raises the internet profile of your business
Helps keep up with your competitors
Sell physical goods or software over the internet
Instead of using a generic off-the-shelf template website, you can project a much more professional image online with a custom-designed brochure site by Zetagram.
Present your business information to potential customers simply and clearly with clean and lightweight code, designed in a style to properly represent your business image, logo, brochures and vehicles.
Lead your customers through your marketing pitch and product information, with engaging content and an easy to navigate site. This will encourage your users to enquire further by email or telephone which could lead to a sale (known as a conversion).
Types of Web Design
Types of websites previously designed by Zetagram have included:-
Business brochure websites
Online shops (eCommerce)
Information websites
Photo galleries & portfolios
Online catalogues
Business directory websites
Personal/blog websites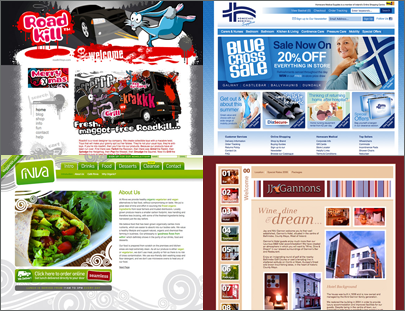 To view examples of websites that have been designed by Zetagram, visit our Website Designs page in the Portfolio section.
Our Approach
Zetagram has had extensive experience in designing web pages and websites for Irish, UK and US companies and businesses for over 17 years, progressing from graphic design tools to hand-coding HTML and CSS.
We work closely with our clients to really understand the core of their businesses, their customers and their competitors, and use this to accurately represent their needs and requirements in our designs.
Zetagram takes a 'content-first' approach to website design; meaning that communicating the text information and product/service imagery of your business to your intended market is the primary aim of each website.
A generic off-the-shelf template based website may initially appear an attractive option with flashy effects and animation, but without a good foundation and a clear understanding of the needs of the end-user it may fail to deliver results in the long term.
With good content in place, Zetagram can then go on to design custom HTML5 code around your business image to properly represent your message, with additional enhancements if required, such as video and animation.
We can create a custom 'look and feel' to the site to provide a user experience that works seamlessly with your brand and off-line marketing, such as printed brochures and press advertising.
Our websites are responsive, which means they adapt to work on all devices such as smart phones and tablets, as well as laptop and desktop computers.
We understand that developing a business website can be a daunting task, and we do our best to simplify the process and guide our clients through it.
We do this by breaking it down into smaller stages, and can offer additional related services like copywriting, to develop the text content of your site, and photography, to develop the image content of your site.
Guideline Costs
Website designs can start from €300 and range up to €2000 with web-ready content supplied. These designs take between 1-4 weeks to develop and are presented online in private web space before being uploaded and launched on the internet for your customers to view.
New web pages can be added to an existing Zetagram brochure website design as cost-effectively as €100 per page.
For an accurate estimate of a brochure website design we would recommend a free design consultation to discusss, as we really need a conversation to determine how to approach your website.
This free consultation is also useful if you are unsure where to start with your site, or need some direction for the content that your users are expecting to see.